Electro Pads
2.10
An Engaging Drum Pads App
Electronic music instruments have become very popular in this day and age. While conventional musical instruments like the piano and guitar are very much in fashion even now, electronic instruments have made quiet an entry in the musical arena. Electronic instruments are used to best effect by DJs for remixes but many compositions now also include electronic instruments to bring a more modern feel to them. Drum pads are one of the more popular electronic instruments in use these days with a tap on each pad creating a unique sound. With modern development, you don't actually even need a physical drum pad when there are great drum pads app available on the Play Store. Electro Pads is one such unique drum pads app where you can create your own compositions.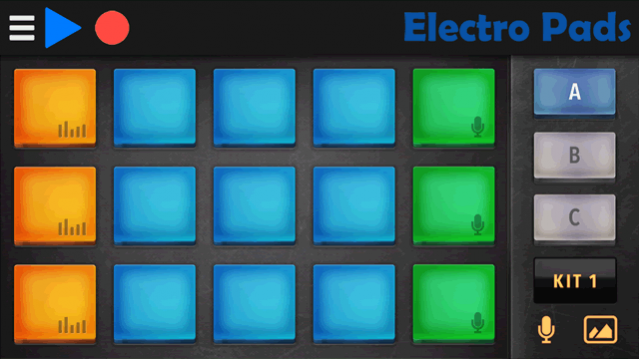 Electro Pads is a very useful and impressive instrument app where the screen has been developed in the form of a drum pads instrument. There are a number of useful features as well and you can use them to great effect. While the app doesn't exactly have a tutorial to guide you through on how to use the app's various features, there are trial sounds available with an enactment of which pad was tapped at one point to create which sound. This is helpful in understanding how electronic drum pads are used for creating quality sounds. You can play the trial sounds from the play button at the top left of the screen.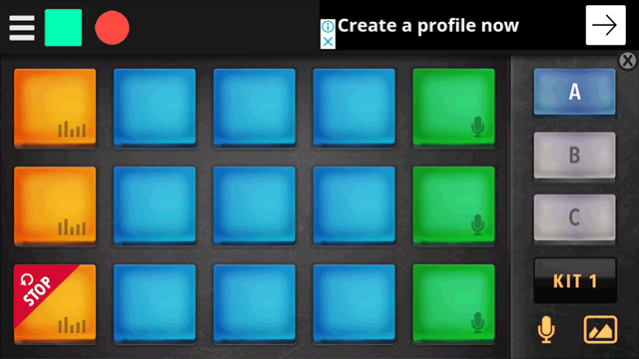 There are great sound choices within the app. The three buttons at the left most side of the screen are for continuous background music. The nine blue buttons in the middle are for adding a variety of sounds over the continuous music. The green buttons on the right are for adding interesting vocal sounds in order to give the composition whatever direction you need. There are three mixes available in each kit named 'A', 'B' and 'C' with each choice offering different sounds. There are a total of six kits available which means that there are around 90 sounds for you to play with in the drum pads app. There is also a very funny option of adding your own voice to the mix by recording it through the app. This is extremely funny and interesting. You could actually use it to create your own DJ persona if you want while you can play with this option greatly as well.
To start recording any particular composition, you would have to tap on the Red record button appearing at the top of the screen. To stop the recording, you would have to tap on the button again. You can listen to the recording through the Play button. During the recording, multi-touch is enabled which means that you can tap on a couple of options at once in order to create further unique sounds. This is particularly impressive as it allows greater experimentation as would be possible with an actual physical electronic drum pad instrument.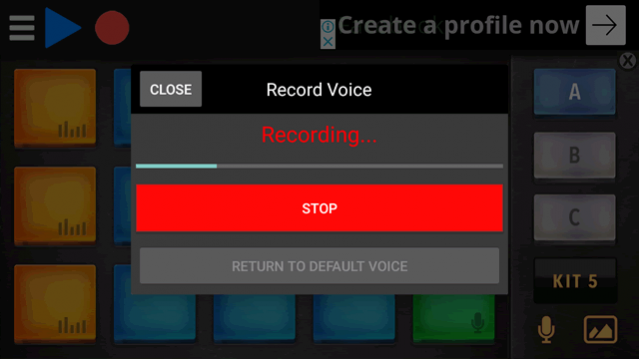 The app also allows overlaying the music you create with the app over songs already present on your phone. This is how you can create cool remixes as well if needed directly through the app. The song continues to run in the background while all your cools touches add further to the music and song playing in the background.
Features:
Over 90 plus sounds available to create compositions
Fantastic option of recording your own voice within compositions
A very simple and realistic representation of an electro pad
Easy to overlay your composition over songs already on your phone
Conclusion:
Electro Pads is a drum pads app that really delivers unique sounds to allow for experimentation and some great fun. For any music lover who wants to play around with an electronic instrument, Electro Pads is a great starting point!
---
Add a review
Tell us your experience with
Electro Pads
2.10
RELATED PROGRAMS
Our Recommendations
---
---
---
---